Interior design is a discipline that aims to transform our homes into beautiful looking well-functioning spaces.
People have always thought it is just a matter of taste to design your interiors, however, this is not true since interior design requires knowledge more than it requires taste. That's why we have decided to start Interior Rocks!
Our goal is to make it possible for anyone to follow the interior design methodology and build their own beautiful looking well-functioning home.
In order to do this, we are going to publish a set of posts describing every step in the process in detail and also refer to our own experience and favorite products that blend with each other well. In this article, we will lay down the framework for interior design that you can follow along.
Interior Design Style
The first thing you need to determine is the style you're aiming for. There are many styles that you can follow.
Modern
Contemporary
Classic
Neo-classic
Scandinavian
Minimalist
Industrial
And many more.
The style you're going to follow depends on your taste and how you aspire to see your house. There's no rule for it so you're advised to understand each style and choose one.
The idea of choosing a house style is to make sure everything is tied together and coherent, which will reflect a more organized and beautiful taste to your house.
Palette
After defining your style, you need to choose a color palette.
This is how you make sure you get no odd colors in your house and that all your colors are coherent.
The way to choose your palette depends on you, what colors do you like.
You start off by choosing one or two colors that match and then maybe find one or two secondary colors that will help them.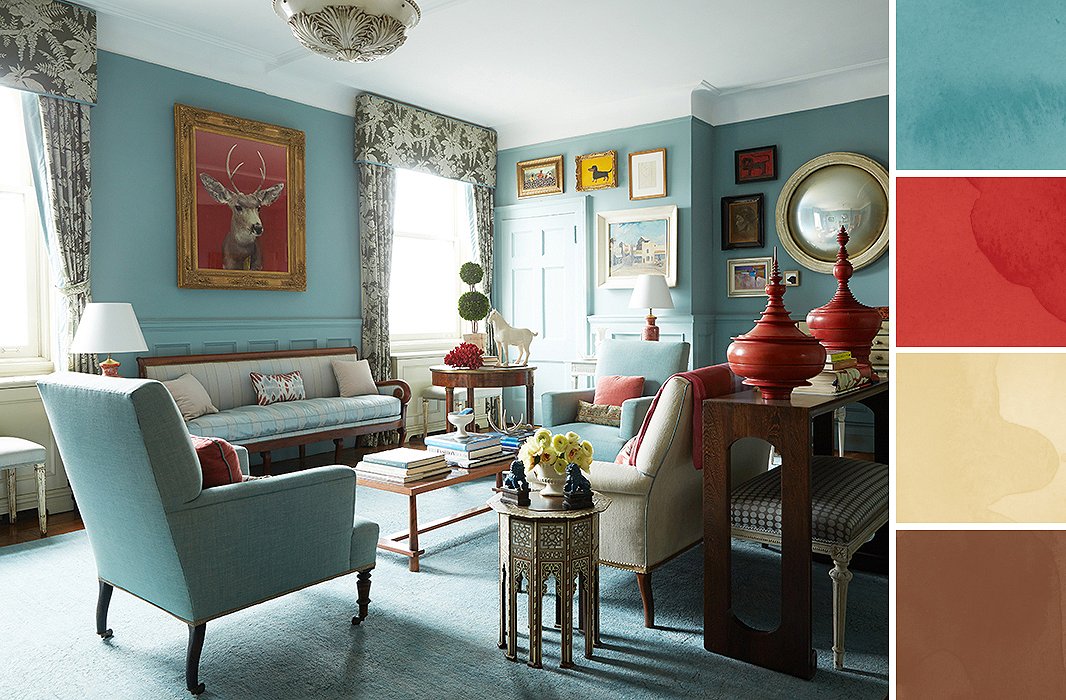 In the end, the choice of a color palette is yours and no one can influence it, so make sure you like the colors in it.
Furniture
Finally, you decide what pieces of furniture you need. make sure you have enough storage and all the needed furniture pieces but don't fill your rooms with pieces of furniture you don't need.
Each room gets its own set of pieces and that's why you need to determine for each room what do you expect to have, that is how you decide what you need to place and accordingly, where.
In the end, I'd like to mention that this framework is what will get you from zero to hero and you have to follow it and plan everything ahead in order to make sure you reach a satisfying output.
In the next set of posts, we will go into detail on every topic for interior design. so make sure you read them before you start planning so you won't miss a beat.
I also recommend reading this amazing book by Erin Gates on designing your house and is a great introduction to interior design.
Decor
Interior design doesn't end here. Putting your furniture is the last step before your house becomes habitable. However, it's not the last step in the interior design framework. The last step is aesthetics. You need to determine what elements of decor you need to have in your house that belong to the same style that you've chosen and compliment your palette.
There are many elements but let's take a look at a few of the most important and most common of them.
Chandeliers
Chandeliers serve a functional purpose which is to provide lighting. However, they also serve another purpose which is to connect your ceiling to your room's decor and style. Because the ceiling is usually plain and without any decor items placed on it, the chandelier is what gives it its taste and completes its aesthetics. There are many different styles of chandeliers that you can choose from, it all depends on the style you're following. Here are some beautiful modern chandeliers.
Wall decor
This includes stuff like shelves, paintings, textures, mosaics, and mirrors. The choice is hard and the options are unlimited. These items will decorate your walls instead of having plain boring walls. They will add the element of aesthetic to your room no matter how large or small these items are, they will definitely add to your room's flavor. Even transform it totally into a new room. You'll lose that sense inside you that your room is always missing something and they will start feeling whole and connected.
Shelves
Shelves are functional. They can be used for both decorating and storage. You can place your books on them and have them still look good. They can house small plant pots that add a strong element of decor to your wall. Shelves themselves can look nice in different shapes or having spotlights or LED lines on them.
Paintings
A wall canvas can do magic to a wall. The number of colors in a painting can be manipulated to be brushed from a certain color palette. The same color palette used to decorate the room. Abstract art and textured paintings are a climbing trend and will trend in 2020. These elements are strong decorative items that connect your room together. Certain abstract art canvas will merge furniture with decor.
Mirrors
Apart from being used to see your reflection. Mirrors serve two more important purposes. The first being as a decorative element in interior design. The second being to give depth to a room. A mirror adds huge depth to the room. From Physics we learned that a mirror will give you a sense of as much distance as in its view. For example, a small 2*2 room will feel like it was 2*4 if it had a mirror on either wall. Mirrors do miracles in such rooms because you're always longing for that extra few meters that you lack. Or at least the illusion of that distance. They also reflect light in a way that makes every corner of the room lit.
In the end, the interior design framework is a simple framework to plan and transform spaces. Following these steps would produce a beautiful outcome at the end that will give you an elegant sense every time you look at your room.