Bathroom Remodel: A comprehensive guide
What's going on?
Doing a bathroom remodel is by no means a trivial or easy task. It requires a lot of good planning, vision, and money. Doing a bathroom remodel means that you'll get a whole new bathroom that is totally different from what you had before. This means that you need to address what you currently have and realize what is wrong with it. Is it out of style? Is it broken? Are you looking for more storage or added functionality? Excited for a certain idea or style that you're trying to achieve?
Then doing a bathroom remodel is just for you, but before you start you need to understand the dimensions of this. If you were to ask me how long does it take me to plan a living room remodel, I'd say on average around 2-4 workdays. But if you ask me how long does a bathroom remodel planning takes, I'd say around 15 working days of planning. That's the extent of it. It's a hard task yet it comes with a lot of benefits. Doing it can give you a whole new home style and that can change everything altogether.
That's why doing a bathroom remodel requires listening to what pros have to say before you start planning and executing. You need to get your ideas straight and focused and know what needs to go and what needs to stay. Planning what you ought to have and what you should avoid. That's why we're writing this guide for you.
Your bathroom's shortcomings
Change is inevitable. You have to realize that sooner or later you'll go around renovating parts of your home. That's typical, however, what you don't want is that realization of a missing function that you wished for when you're done with your bathroom remodel. That's quite awful and that's why you need to understand what you're doing and why you're doing it.
Grab a pen and paper and start outlining what your current bathroom is lacking. Is it functionality? Are you in need of a Jacuzzi or a walk-in shower? Is your bathroom lacking storage? Do you need more bathroom drawers and units to stack your detergents, towels, and other sanitary?
Are your tiles out of style? Or is it that your bathtub, sink, and toilet look bad and out of style? There are so many things to note when you're getting a new bathroom, that's why you need to note well what's wrong with your current bathroom set up so that you can avoid and also note what you wish to have in your upcoming bathroom. That way you can be sure to have all you want in your bathroom and avoid what you hate about your current bathroom.
Ideas to consider in your bathroom remodel
There are a lot of ideas that you need to consider in your bathroom remodel. It's best to go over all of them before you start planning so you're aware of the industry and all the ideas you might like. That way you can be sure you're covered and ready for the future.
Walk-in shower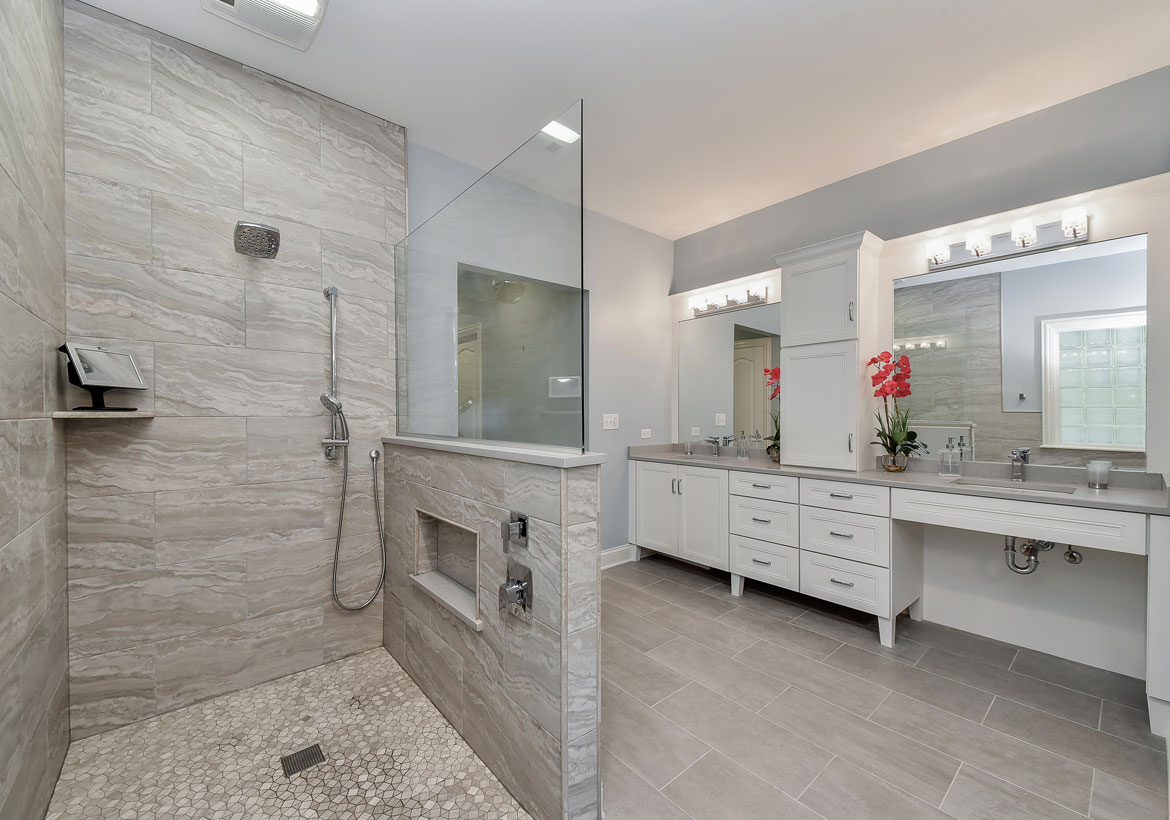 A walk-in shower requires a lot of measurements and a good design. A walk-in shower will require a good plumber so make sure you hire a trustworthy contractor or interior design firm that knows what they're doing. Since there's no room for mistake here, you don't want to risk anything.
The walk-in shower is a piece of art for your bathroom. Mixed with beautiful marble on the walls and floor, it will definitely stand out.
Freestanding soaking tub
Freestanding tubs are becoming a trend in 2020, they're endorsed by designers like Nate Berkus and used in their contemporary designs. Known to be a decorative item of your bathroom and a good piece to use for showering and for the kids to play and soak in.
It's the choice of those who are after the latest designs in Interior, those who are up to date on the latest and most contemporary designs. A freestanding tub is definitely a signature in your bathroom.
Lighting
Lighting can have a large effect on your bathroom. And I'm not speaking just normal lighting, but also decorative lighting. Lighting in your walk-in shower can be a luxury choice for your new bathroom. Spotlights can also add a decorative taste to your bathroom remodel and make it an artistic design.
Hidden Tank Toilet
Another trend in 2020 is the hidden tank toilet. It has become the signature of a contemporary bathroom for its sleek design and simplistic nature. The only downside to them is that periodic maintenance is hard to do.
Shelves
Shelves can be quite functional for your walk-in shower. They can be used as storage for bottles of shampoo and conditioner. You can use it to place decorative items like a small plant pot.
How much does it cost for a bathroom remodel?
This depends on where you live, the country, the state, the city, and your area. Every area has its own restrictions since a more rural area would cost more than an urban part of the city.
We're going to speak averages, so expect to be paying more or less depending on where you are and on your circumstances. We're also estimating based on the best items that you can get for every category.
For a small bathroom, it's expected to spend around $1,000 to $3,000 depending on many factors including where you live and what you choose for your bathroom. Smaller bathrooms generally require less time for renovation, fewer materials, and less workforce.
Large bathrooms cost more since they require more materials, more time, and more workforce. For example, a 2m*3m toilet is expected to cost you around $7,000 in various areas over the United States. Expect to pay more or less depending on your location.
The two most expensive phases of bathroom remodeling are connecting new appliances with pipes and tiling. New appliance installation on average will cost you around $3,500 with pipes included. Also, tiling will cost a similar sum depending on your bathroom dimensions.
There are things that can save you money in the process, for example, you do not need a fancy toilet for any reason. Just stick with the standard toilet and you'll do great. There aren't many features to add to a toilet anyway!
Last but not least, make sure you choose wisely whoever is going to manage your bathroom remodel process. Don't give it to the lowest bidder, rather aim for the one with the highest experience and the best price. The experience will save you a lot of time and money, and you definitely need to save those.