21st Century Problems
A modern-day human typically spends around 8 hours a day sitting on an office chair looking at a computer or at a stack of papers. Which is probably the worst decision humanity has made one day, but who are we to speak. Modern-day problems require modern solutions and to sit 8 hours a day we need to hit the gym or go running every day. This doesn't really work out since most of us are too busy with their life, work and daily commutes to the extent we have no time left to our bodies.
With what we have, at least, we need to figure out how to improve our chances of getting out of this injury-free. That makes the first point to consider is how we sit. Our daily pose hurts our spine and as we grow older we cause permanent damage to our spine and our back that we can't heal later on. That's why we need to think carefully about how we sit and to improve our pose as much as possible so as not to hurt our back and neck.
As part of the interior design framework, we need to also take into consideration human health. Understanding hazards to your health and how to approach them, mitigating damage from any habit that we form over time and employing furniture to help us lead a healthy lifestyle.
Careful Posture
Maintaining the correct posture doesn't require a degree in ergonomics. We need to follow a few tips from the experts and that shall be sufficient. Experts provide a small set of rules that we need to keep in mind when we're seated and everything will be well. For example, our monitor should be of the same height as our eyes, Our arms should be constantly making a right angle or an obtuse angle to prevent injuries like carpal tunnel's. We need to move every 20-30 minutes. And stare away from the monitor every few minutes.
See? The rules are simple but we need to memorize them. A nice graphic would help us keep them in mind all the time. Look at this image every few hours and try to fix a problem you see with your posture. That's the correct way to have the perfect posture.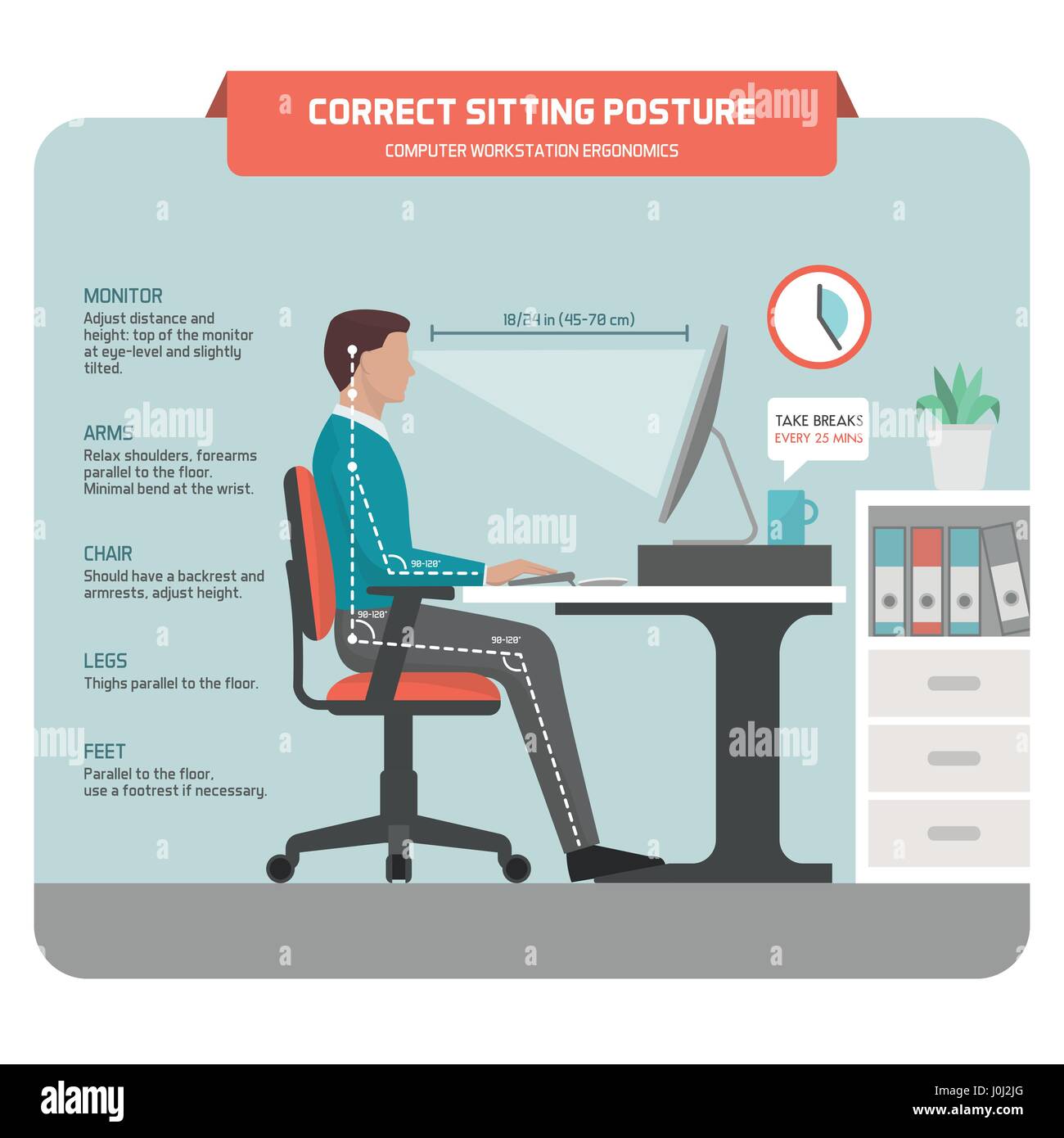 Ergonomic Furniture Helps!
Furniture can have an important effect on our health. Our office chair is an investment in our spine's health and our neck's stiffness. We ought to have a chair that is well relaxing and also ergonomically correct so as to help us maintain the correct posture all the time.
For this, we're reviewing the Flash Furniture High Back Office Chair.
But why this chair, what are its features that makes it such a hot seller on Amazon? Let's review this chair and see.
Features
Mesh Back
The benefit of having a mesh back chair is the constant airflow between your back and the room. This means you're not going to sweat your back when the weather is warm and that you'll have a clean smelling chair all the time
Lumbar Support
The ergonomically designed back makes it a very compelling office chair. It will force your back to have the correct posture. All you have to do is to sit and keep your back to the chair and it will do the rest. Spending hours on a chair like this will exempt you from your typical pain due to its amazing lumbar support.
Quality of make
For the price tag, this chair is of superior quality. The seat is deep to extend under your thighs. The arms are foldable and can go up and down or be removed altogether. The mesh is fairly durable and is definitely far more breathable than the cheap bonded leather chairs.
Lock Mechanisms
Tilt and lock mechanisms feel solid and are of nice quality.
Easy Construction
The construction of this chair is very easy and will take some time between 20 to 30 minutes which is interesting given the size of this chair.
Seat Size: 20.5"W x 19"D
Back Size: 20"W x 23"H
Seat Height: 17.25 – 20.75"H
Arm Height From Floor: 26.25 – 30.25"H
Arm Height From Seat: 8.5"H
Overall Width: 25.75"W
Overall Depth: 25"D
Overall Height: 37.5 – 41.25"H
Weight Capacity: 250 lbs.
Variations
This chair comes in multiple different variations including high back, side chair, mid-back, mid-back drafting chair. This chair is full of options and is of spectacular build quality. It's definitely a premium product and that's why it's a top seller.
For the price tag on it, I can definitely recommend purchasing it for your home office or any other office you have. It's definitely an office chair for every human.